COVID-19 Response
Due to COVID-19 our Sales department is working remote. Our Service Department is open Monday-Friday: 7:30-4:30.
Merrick Dodge Chrysler Jeep of Wantagh: Still Here for Your Auto Needs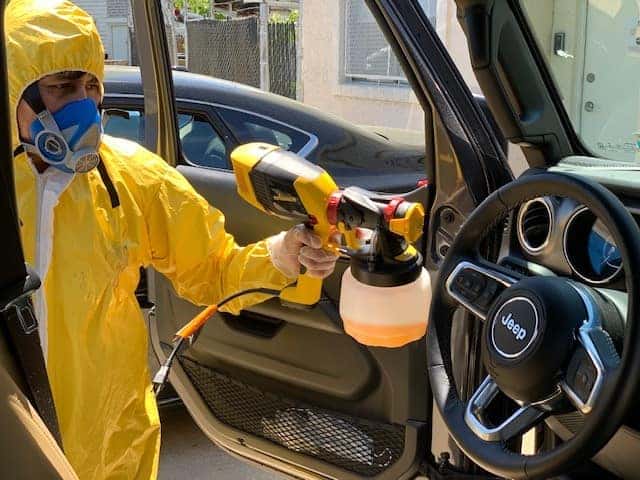 COVID-19 Response from Merrick
These are very unprecedented times for residents in Wantagh, NY and all around the world. We understand the difficulties associated with the novel COVID disease, but we also understand the need to have a reliable vehicle when headed to the grocery and hardware store for all your family's essential items. At Merrick Dodge Chrysler Jeep of Wantagh, we make sure auto sales can happen every day. Whether you wish to shop online or visit our lot, you can expect high-quality customer service and the best health and safety precautions possible. We can't wait to help you find the new vehicle of your choice. Please be sure to ask about our current specials as well to help save money! Schedule your appointment today.
Safety Precautions at Merrick Dodge Chrysler Jeep of Wantagh
We're cleaning our facility daily to make sure surfaces customers come into contact with are disinfected. Our team also sterilizes the cars in our care at the service department to prevent any spread of contamination within the facility. We are following all CDC guidelines to keep our community safe. All of our on-campus employees will be wearing gloves and masks to protect our clients and remove any potential for contact. We also practice social distancing when dropping off and picking up your vehicle from our crew.
Professional Cleaning to Ensure Safety
Our dedication to cleanliness knows no bounds, and sometimes even we need a little help to get the job done correctly. When the outbreak first occurred, and residents were moving to shelter-in-place orders, we had a team of professional cleaners come to ensure our space was as safe as possible. We wanted our team and clientele to feel as safe as possible when visiting Merrick Dodge Chrysler Jeep of Wantagh. We also are regularly cleaning and sanitizing around our offices and in the service department to maintain the work they provided.
Schedule Your Appointment Today
Due to COVID-19, our sales department is working remotely and will be available online or over the phone. You can also schedule an appointment, and they would be happy to meet you at the car lot to show you around safely. If you are ready for a test drive, you can count on us to make sure the car is safe to drive and has been cleaned and sanitized before you step in. When you schedule your appointment, we hope you arrive on time. While we do not require you to wear a mask, we do highly encourage it to keep everyone safe.
Contact Us Today About Getting your New Car
If you have any other further questions about the precautions we have taken to prevent the spread of COVID-19 or are interested in buying a new or used car, please don't hesitate to call today! Our service department is open Monday-Friday: 7:30 a.m. – 4:30 p.m. Our staff is ready to ensure you get everything you need in a vehicle to keep your family safe.
Any questions please fill out our form below.